Commercial Flat Roofing Contractors With 30 Years of Experience
The flat roofing contractors at John Darvish Construction Co are proud to bring you comprehensive flat roofing services if you are located in the DC Metro area. Whether your business needs new installation, a repair, replacement or maintenance, our team is here to serve you. With more than 30 years of experience, our roofers stand behind their work and offer expert installation and industry-leading products with outstanding manufacturer warranties.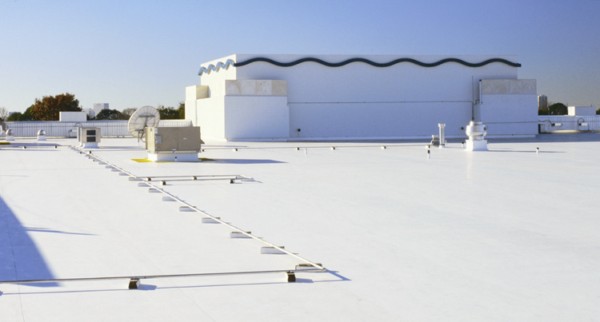 Commercial Flat Roofing Materials
Our team works with a variety of flat roofing materials to meet your needs. All materials are installed by experienced roofers and offer protection you can depend on for years to come. We offer:
Thermoplastic polyolefin (TPO). A non-walkable, single ply roofing membrane designed for flat or low slope roof application. Heat welded seams provide superior strength. White and Grey are highly reflective while providing energy efficiency. We work with Firestone & Mule-Hide products for your TPO roof, which provide high-performance, unrivaled warranties and the protection you need for your commercial structure.
Rubber roofing. Also known as EPDM, is a non-walkable rubber roofing system that allows you to seal your flat or low slope roof to prevent leaks and other problems. At John Darvish Construction Co, our flat roofing contractors expertly install rubber roofing.
Vinyl decking. A walkable vinyl surface perfect for rooftop decks/ terraces or decks over living space. We install low-maintenance and aesthetically pleasing roofing options from Duradek™ in a variety of color options which feature 100% waterproof vinyl roofing and flooring in one for your roof. They also come with a 15-year waterproofing warranty.
Exterior Elevated Deck Tiles. Products such as those made by Coverdeck Systems provide a superior alternative to the basic flat roof. This product transforms a standard non-walkable surface into a beautiful walkable area that matches any exterior color scheme. Offering a multitude of color & texture options such as composite, wood, plastic, etc. gives the discerning customers.
Not sure which material is the best fit for your commercial or residential property? During your free estimate and consultation, a John Darvish Construction Co representative can walk you through our options so you can make your best choice.
Let Us Handle Your Flat Roofing Needs in the DC Metro Area!
John Darvish Construction Co serves DC, Maryland and Northern Virginia with quality flat roofing services. Give us a call to schedule your complimentary inspection and estimate today at (703) 723-0440, or you can complete our contact form to request a quote. We look forward to handling all your commercial roofing needs!